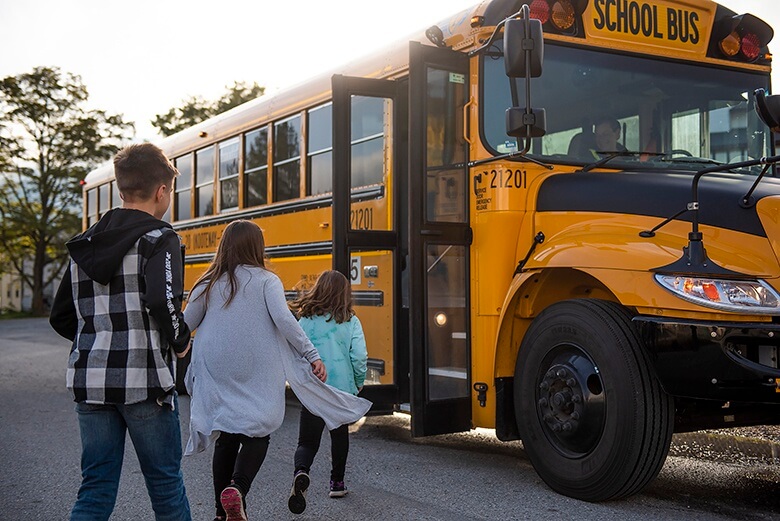 British Columbia School Districts get Electric Buses
In a major step along the electrification journey, IC Bus delivered its first electric CE Series school buses to Canada. The buses are part of a larger order for 18 Type C electric school buses for British Columbia School Districts.
British Columbia began taking steps toward full electrification in 2019 and, after meeting with IC Bus and its dealer, Western Canada Bus, wanted to move quickly.
"The government of British Columbia, which operates most school buses in the province as a public fleet, had decided in 2018 that they were going to invest in zero-emission public fleet vehicles," said Joel Landry, school and commercial account manager for Western Canada Bus. "And they were seeking a direct replacement of existing internal combustion engines in public fleet vehicles – meaning they did not want to purchase two electric vehicles just to replace one diesel bus. The range and capability needed to make it a 1:1 replacement."
From there, the Association of School Transportation Services of British Columbia (ASTSBC) began exploring vendors that could fulfill those needs. Frank Marasco, ASTSBC manager, said the process was thorough but rewarding. 
"We put together a spec that included our needs in British Columbia – for power, for climate control, and other issues," Marasco said. "We were impressed that IC Bus, before selling a single bus in our province, made multiple visits with the head of their electrification division. Before even making a sale, they used British Columbia as a sort of testing ground for their electric bus."
Marasco said that this process was critical and helped ensure that the buses perform according to local specs.
Read More: https://school-busride.com/ic-bus-helps-british-columbia-school-districts-go-electric/